Thurø camping
Danemark / Svendborg Municipality
A propos du camping

Children and activities are at the heart of Thurø Camping. The campsite on Funen is just a stone's throw from the beach, and here you will find a jetty and slide that will fling you straight into Svendborgsund. There are plenty of sheltered sites around the campsite.
There is also a large play area with a bouncy castle for the kids, as well as a petanque piste for adults. You can cook dinner on one of the many grills around the site, where tables and benches are also provided. Thurø Camping is also a neighbour to Europe's most entertaining mini golf course.
Thurø Camping lies very close to one of Denmark's most beautiful towns, Svendborg. A quick trip across Svendborgsund Bridge and you're in Svendborg - and ready for a stroll down the quaint and winding historic streets.
While in Svendborg you can also take a tour into the word of natural history at Naturama. If your family likes visiting castles, two internationally renowned ones are close by. It is only 15km to Egeskov Castle, which houses numerous attractions and Valdemar Castle, dating from the 1640s, is even closer.
If you fancy a drive, then take a trip to Odense, the capital of the region. The town has everything, from H.C. Andersen to shopping and a range of cultural attractions.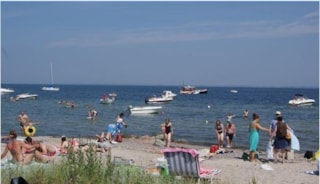 Thurø camping
Smørmosevej 7
5700 Svendborg, Danemark / Svendborg Municipality
Fermer