Bjerge Sydstrand Camping
Danemark / Kalundborg Municipality
A propos du camping

Wonderful holidays. Peaceful holidays. That's Bjerge Sydstrand Camping, in nature's beautiful surroundings. Bjerge Sydstrand campsite is run as it was in the 'good old days' – traditions such as eating together on long tables, shared barbecues and evening music are still alive, and very popular.
The campsite lies beside a beautiful child-friendly beach where it is also possible to enjoy fishing. If you prefer 'put and take' fishing then you won't have far to travel to find a range of options.
The largest local town is Kalundborg, and it really is a must-see trip. There is a wealth of impressive historic buildings, including the ruins of Kalundberg fortress and the foundations of a square tower dating from Valdemar Atterdag's days. There's also a five-towered church, probably built by Esbern Snarre's daughter at the turn of the 13th Century. Kalundborg is also a lively market town with winding pedestrian streets full of shops, businesses and restaurants.
If you venture a little further afield, you can take a trip on the veteran train between Høng and Gørlev, and Birkegårdens Gardens in Ruds Vedby is worth a visit for anyone interested in botany. The gardens also have play areas and facilities for children.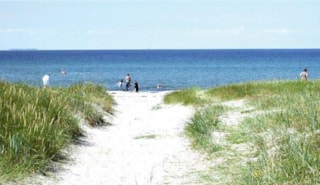 Bjerge Sydstrand Camping
Osvejen 30
4480 Store Fuglede, Danemark / Kalundborg Municipality
Fermer